Welcome to the
REGION of WATERLOO ARTS FUND

The Arts Fund has a one-stage online application portal for centralized processing of grants. Click below to create your own profile for future applications.
Review the Online Application User Guide before starting your application:
*** Access the online application ***
The Spring 2023 online application portal will open on Monday, February 27, 2023. All online applications must be submitted by 11:59 p.m. on Friday, May 5, 2023.
This is for projects that will take place July 1, 2023 to June 30, 2024, 

Land Acknowledgement
The Region of Waterloo Arts Fund is situated on the Haldimand Tract, land that was promised to Six Nations, and was traditionally used by the Haudenosaunee, Anishinaabe, and Neutral Peoples. We are grateful to have the opportunity to live, work, create, and to meet on territory protected by the Dish With One Spoon wampum. The enduring presence, philosophies, and deep traditional knowledge of First Peoples are foundational to the arts and culture of this place. We are committed to supporting local creators by acknowledging the collective past, and respecting the contributions of all peoples.

Individual artists or arts organizations will find all the information needed to apply for an  Arts Fund grant on this website. 
The Region of Waterloo Arts Fund is a not-for-profit corporation established by the Regional Municipality of Waterloo. The Arts Fund was created to operate at arm's length from the Regional Municipality, which provides an annual per capita allocation to grant funding for the performing, visual and literary arts. Eligible applicants must live and/or work in Waterloo Region.
The Region of Waterloo Arts Fund has contributed to the vibrancy of the arts and cultural sector in Waterloo Region since 2002.  All citizens of the Region, in each of the seven area municipalities, benefit from the creative projects funded by the Arts Fund. 
Since its inception, the Arts Fund has supported more than 800 local artist-led projects and approved more than $4 million in grants. For more information about the granted projects, see Testimonials and Press Releases, 
The Region of Waterloo Arts Fund is seeking local artists and arts allies to join the Board of Directors. Click this link for more details.
The Arts Fund is committed to providing accessible services, as set out in the Accessibility for Ontarians with Disability Act, 2005. If you have any accessibility needs, please contact the Arts Fund as soon as possible. If you require documents in formats other than conventional print, or if you have specific accommodation needs, please let us know so we can make arrangements in advance.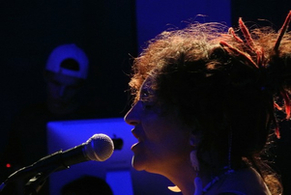 Michele Braniff
       she haunts this place
Button Factory Arts 2014