CONTACT US

Contact The Arts Fund
For Administration, General Information, or Media Inquiries, please contact: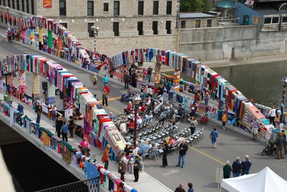 KNIT CamBRIDGE 2010
Photo credit: Judee Richardson Schofield
c/o Regional Clerk's office
P: 519-575-4450
E: info@artsfund.ca
Certain media inquiries will be redirected to the Chair of the Arts Fund Board of Directors.
The Region of Waterloo Arts Fund does not supply any administrative
services for the preparation of application packages.
Please ensure that you review the "Checklist" on application forms.
Note the requirement to collate and staple each copy in your package,
and sign all documents – including the applications forms – before you submit to the Arts Fund.
For mailing, courier and hand delivery of applications and correspondence:
Region of Waterloo Arts Fund
c/o Regional Clerk's Office
Regional Administration Building, 2nd Floor
150 Frederick Street, Kitchener, ON, N2G 4J3
For further information:
PHONE: 519-575-4450
EMAIL: info@artsfund.ca
Or You Can Use Our Form Below: